Well, I should have snapped some Kindle photos at the weekend after all! Maybe Pittsburgh isn't the most exotic place in the world, but the Amazonian rain forest of Phipps Conservatory after months of snow was just heavenly thank you very much!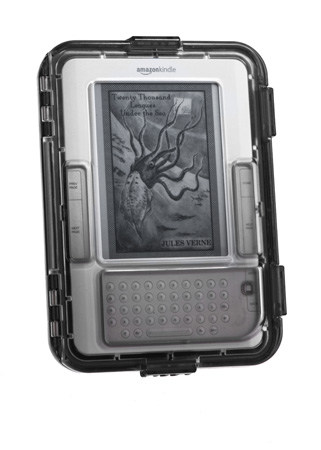 M-Edge are giving away a new Guardian Case for
Kindle in their Kindle In The Wild competition
! Snap a photo of your Kindle in an unusual location and enter to win!
If you don't win that, don't fret!
M-Edge
have recently come out with some gorgeous Kindle covers and cases. They are numerous styles, shapes, sizes and covers. Another 3 or 4 have made it to my wishlist!
M-Edge Leisure Kindle Jacket
"Whether at the beach, pool or gym, this jacket provides superior protection against sand, dirt and moisture by utilizing a read-through, clear vinyl cover and protective double zipper closure that allows for charging of the Kindle while in the jacket"
M-Edge Latitude Kindle Jacket
The Latitude Jacket, made of durable ripstop nylon, provides superior Kindle protection and utilizes a four point mounting system to secure your Kindle.The M-Edge Latitude Jacket zips closed using a hidden double zipper, which allows users access to all ports and the ability to charge their device without removing it from the case.
Top of my list
M-Edge Journey Kindle Bag - Red w/ Black
- big enough to fit my kindle in it's case, chargers and a more. Great gift!